How it Works
Monetise your virtual events. Simply - Every attendee has a single profile on the Presso App that works across all events. Everywhere - All information, entered once, to be used at events, conferences, and everyday networking.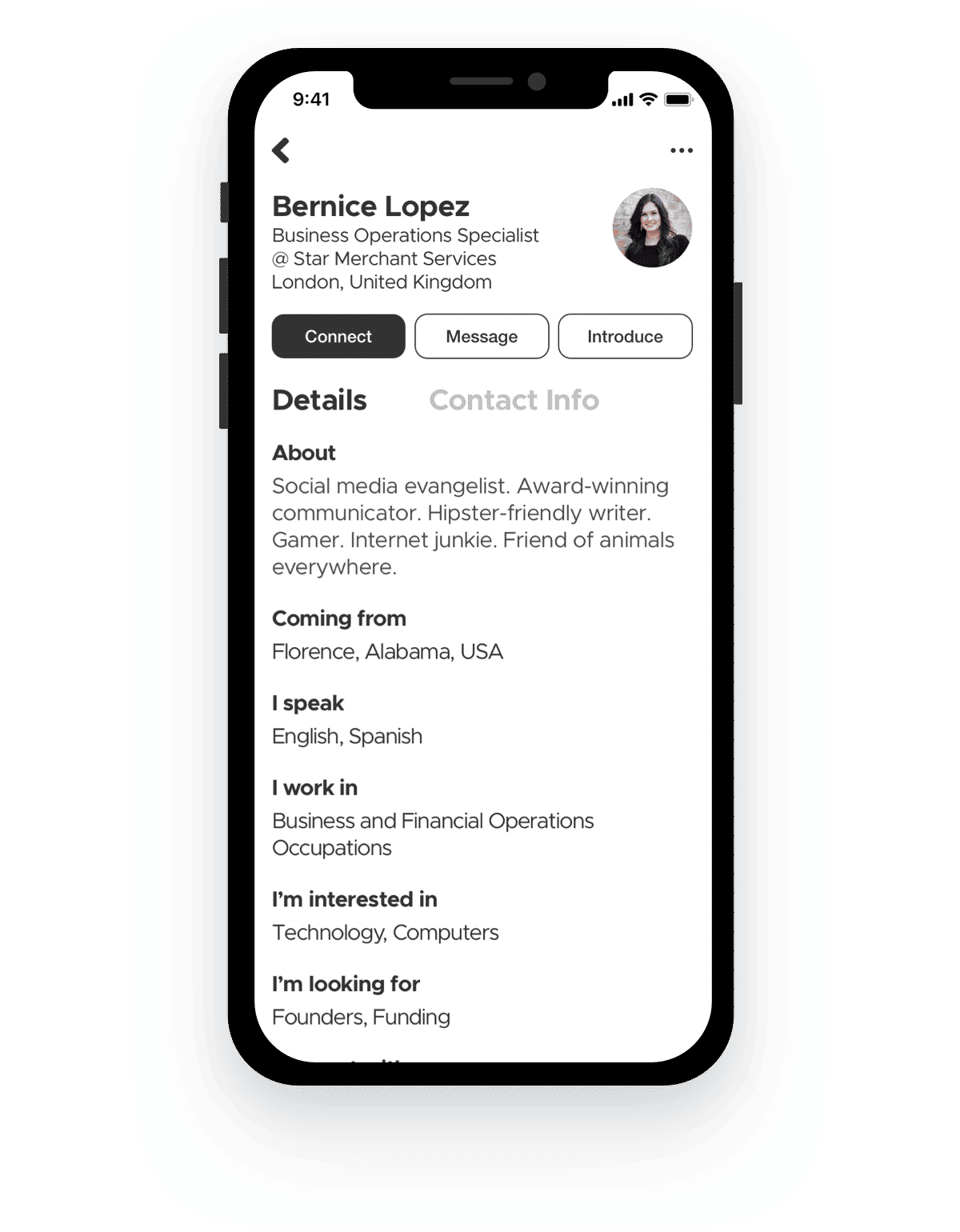 All-in-one-place
Create one profile, fill in all your information and reuse that profile across all events and in your day-to-day networking. With Presso Network, it's all gathered in one place.
Write about yourself and who you are.
Link your Social Media profiles.
Keep all your contacts in one place.
Share your contact details when connecting.
Syncs with your phones' address book.
All your events in one place.
Have all your events in one place. We have made a single overview that shows all the events you have already, or will be attending with Presso Network.
See all you upcoming events.
Look back at the events you have attended.
Keep networking with your peers after the event has ended.
See the new events you have been invited to.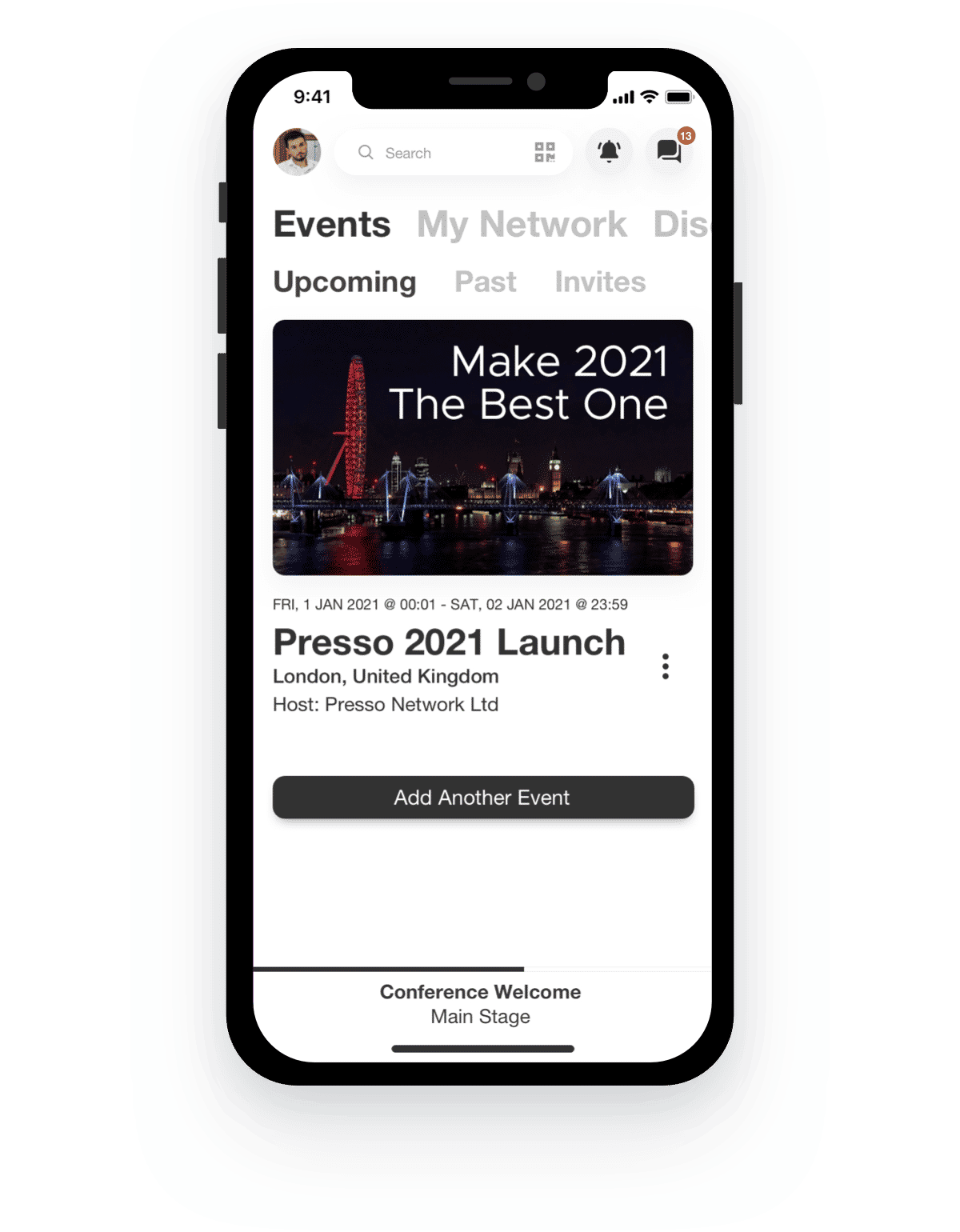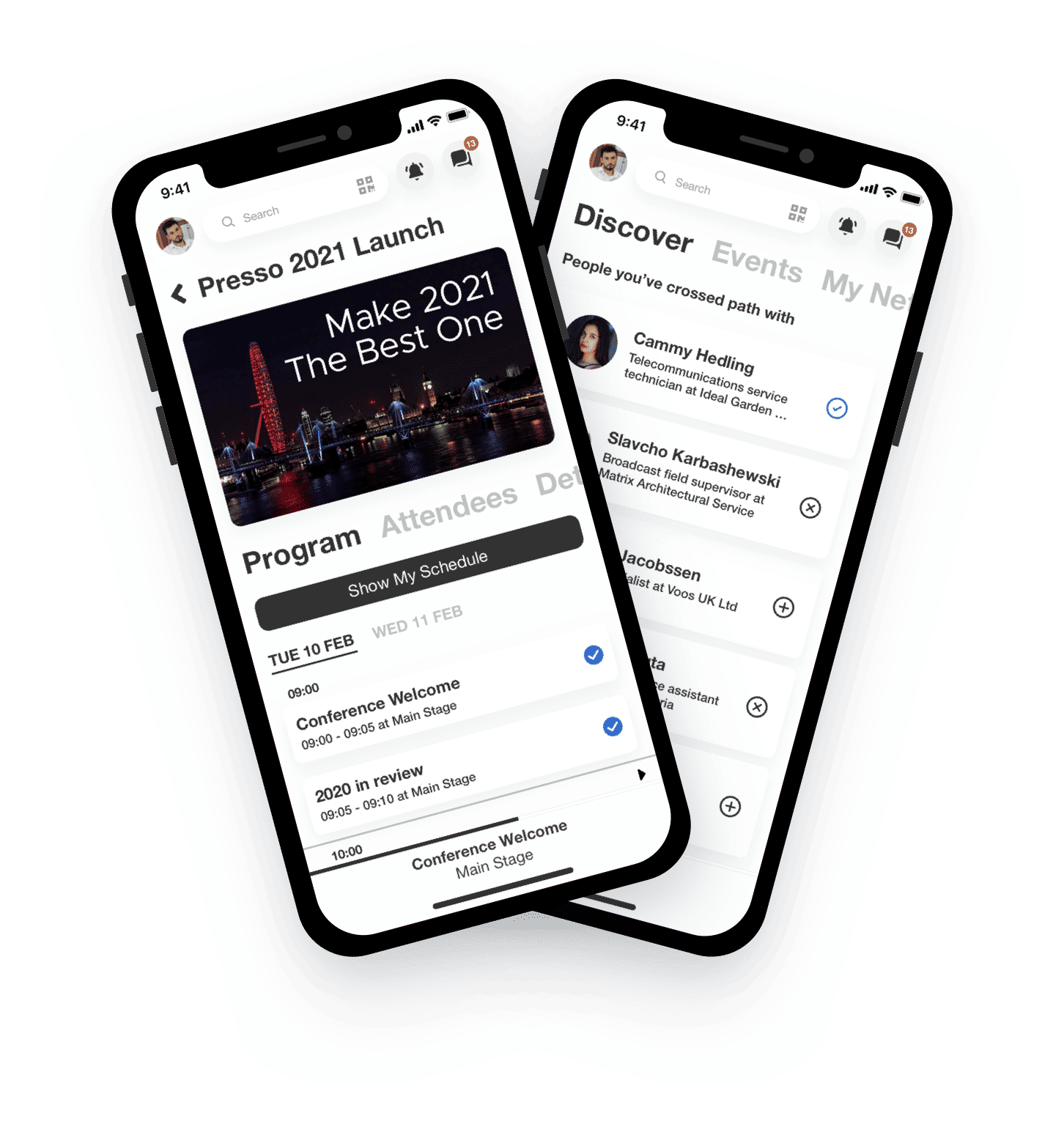 See the full event schedule and make your own.
Browse the event's full schedule, see each session in detail, find the link to the virtual session, see the speakers and panellist, build your own schedule, all in one place.
See the full schedule of the event.
Build your own schedule by marking sessions you are interested in.
Find the links to virtual sessions.
See speakers and panellist.
Plan your days and get notifications when sessions begins.
Network with peers before, during and after events
See all your peers who will attend the event together with you. See their profile, send them a message, plan a meeting, and connect on Social Media. It's all there for you to get the most out of the event and meet some great and valuable new connections.
See the profile of all attendees.
Reach out and plan meetings.
Connect on Social Media.
Connect and share your contact details.
Stay updated if they change information shared with you.
The app syncs seemlesly with your phones' address book.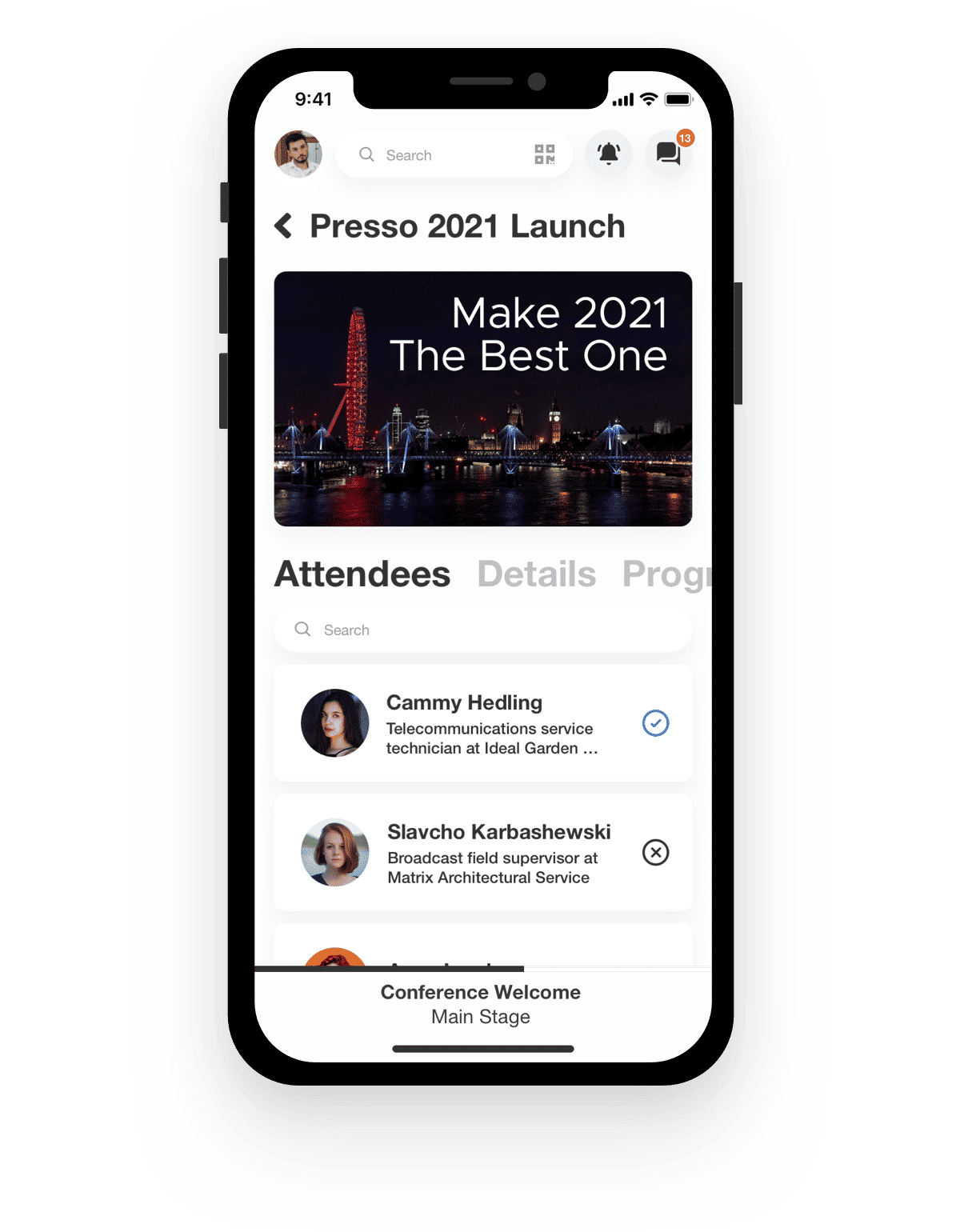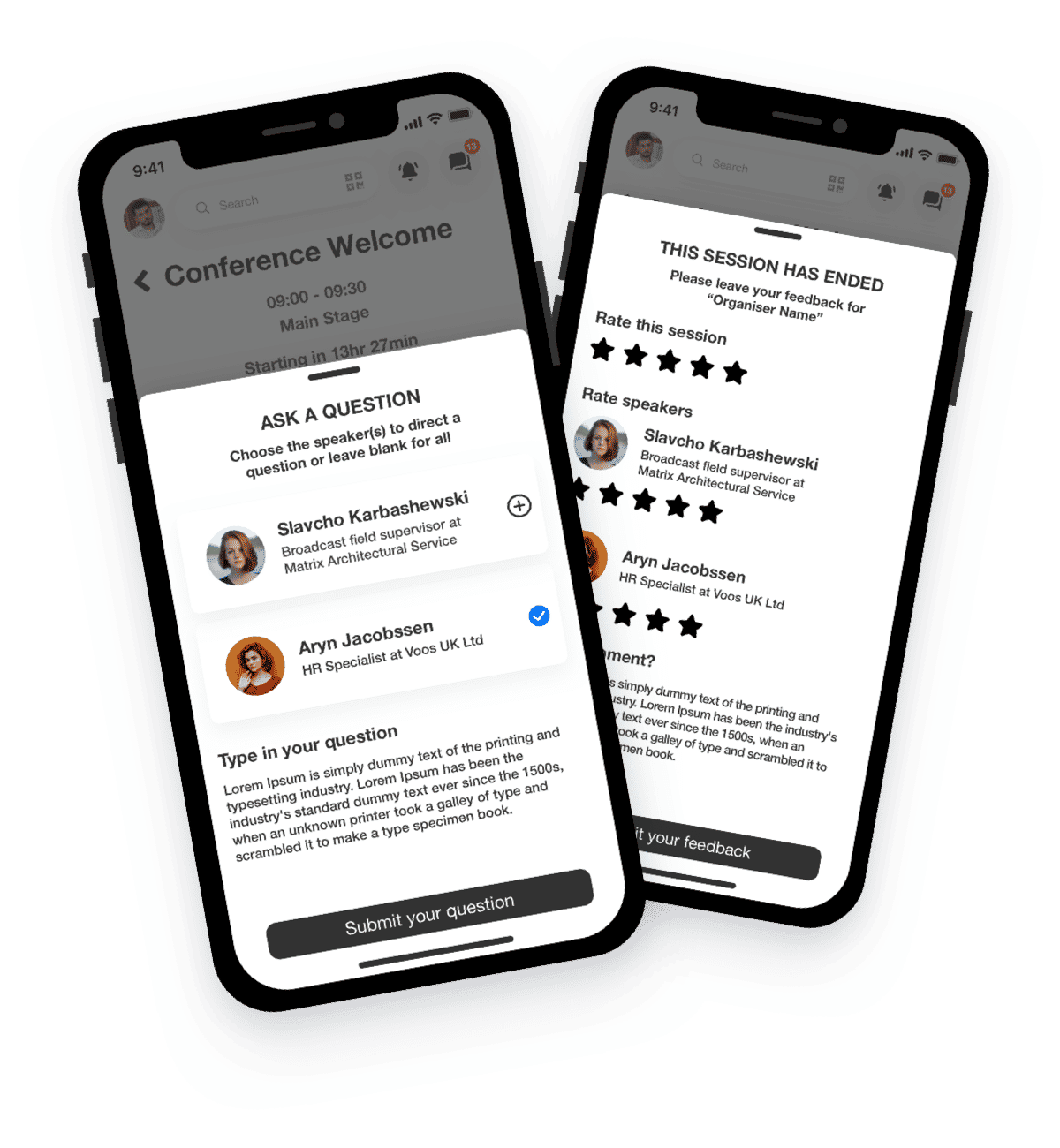 Ask Questions, leave feedback and rate sessions
See all the speakers and panellist, ask questions through the app before, during and after a session. Leave feedback to the organiser and rate your favourite speakers and session, and the event as a whole.
Ask questions to speakers and panellists.
Rate and leave feedback on individual session.
Rate the full events and give feedback to the organiser.
Share your thoughts with the organiser.
Do you want to see a real example?
Download the app and add our demo event by using the code 958-125-781
73
of venues will need to reduce capacity by 40% or more to adhere to social distancing measures.
46
of all venues would need to go one step further and reduce their capacity by more than half.
59
of venues would not break even with these reduced capacities.
READY TO DO THIS
Let's get to work
Get a quote
or write to us via Email or WhatsApp if you still have any questions
or need something bespoke for your event.